BOURGEOIS BAROQUE STYLE
revolts against Spanish despots begin
Decentralization pervades Dutch politics, life

-Why? Did not want to substitute one form of tyranny for another

Contrast with Louis XIV: centralization, top-down rule

Decentralization is attractive to certain artists and philosophers


Amsterdam Today (EL)

The churches disconnect from the artists
John Calvin (1536) Institutes of the Christian Religion
-Purpose of churchgoing: to praise God
-embellishments such as ornate architecture, statuary, professional choirs and orchestras are distractions to that purpose.


Painting
Shunned categories of painting
history scenes, since they recalled oppressive aristocratic authorities
traditional Roman Catholic scenes, since they were either theologically erroneous or distracting to message
Embraced categories of painting
Landscapes
Genre scenes
Still-life
Portraiture
The Painters
Rembrandt van Rijn
1)-group pictures
-
Sortie of Captain Banning Cocq's Company of the Civic Guard, 1642
-foreshortened hand, weaponry
-characters in depth
-play on light
-emphasis on movement, energy, propulsion (coming forward)


SEE ALSO-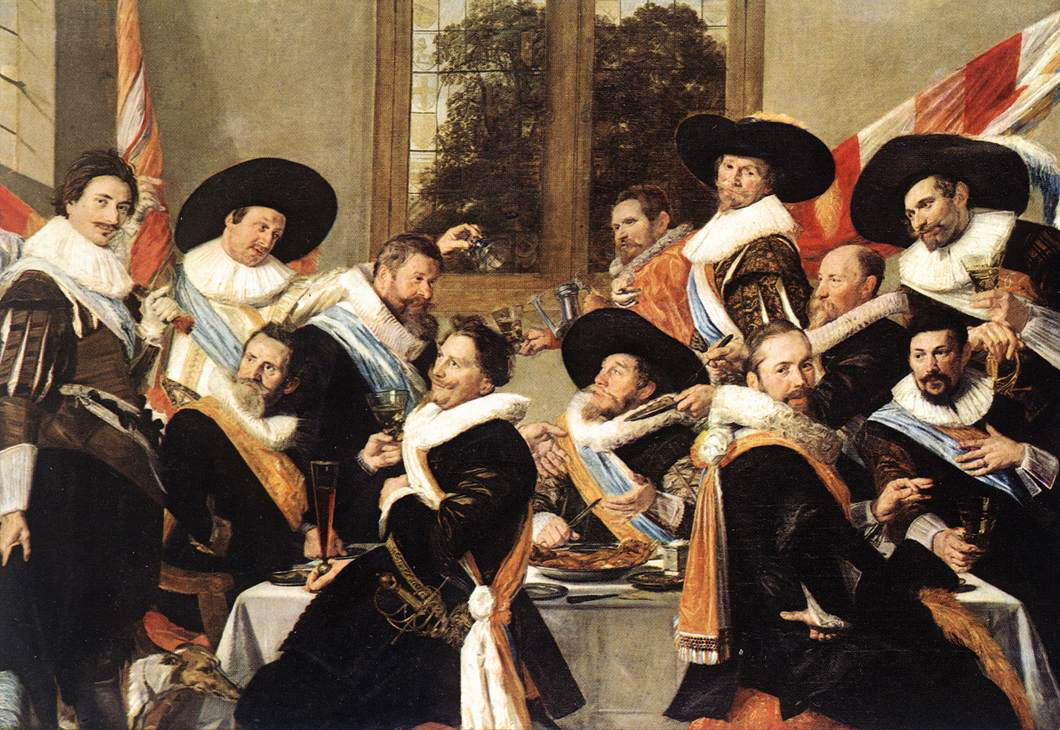 Officers of the Harleem Militia Company of St. Adrian (EL)

2)-individualism; introspection
-Self-portraits
3)-religious subjects
-victory of Christ and contemplation over glory of the Church
-interpretation of Protestant conception of Scripture


Frans Hals
Lute Player with Wine Glass 1626

-comic
-focus on character over situation; relate subject to ourselves; compare ourselves with them
-brushwork brings instant image


Jakob van Ruisdael
-The Jewish Cemetery (El) ® reminds us of death, but also of tolerance of Dutch

Theo Van Gogh: Contemporary inclusiveness?

View of Haarlem from the Dunes at Overveen

Jan Vermeer
-most highly regarded of "little Dutch masters"
-raises ordinary act to religious significance
-Rembrandt emphasizes internal light; Vermeer emphasizes external light
View of Deft
Officer and Laughing Girl
Art of Painting
Music
Sweelinck
-organist
-worked in more permissive Dutch tradition
Bach
-organist, composer for St. Thomas's Lutheran Church in Leipzig
-music was "deeply rooted in the soil of German Reformation"
-Lutherans were more liberal with respect to music
-St. Matthew Passion1 2 , an oratorio, grows out of a cantata
-chorus: mob, then body of faithful Christians
-Other Samples:

Video ( Koopman - Amsterdam Baroque Orchestra )
Ideas
Domesticity

Jan Steen (The Happy Company)

Contributing factors:
colder Northern climate (Europe's Little Ice Age and Today)
history of struggle against Spanish crown and French meddling
Protestant movement emphasizes individuality

"Rome doesn't own me" (political)
"The pope doesn't own me" (religious)
Domesticity and the Arts
Art is of the household (e.g., Pieter de Hooch)
Art is in the household (e.g., Vermeer's

Art of Pa

inting

)-
Landscapes were brought to the household (e.g., Vermeer's

The Concert

)-
Music, books, conversation took place in home
Dynamics of the Baroque
-oppositions that cannot be reconciled were made to coexist
-Rationalism vs. Mysticism
-Catholicism ("universal") vs. Protestantism
-religious orthodoxy vs. freedom of thought (not only in Catholicism!!)
-Absolute monarchy vs. republican commonwealth
-free exchange of ideas (printing press) vs. their suppression
-bold scientific thinking vs. religious renewal
Newton's Principia and John Bunyan's Pilgrim's Progress published within 2 years of each other


-expansion of Space and Time


Astronomy


-space is much bigger, perhaps infinite

Architecture


-increasing space

Painting


-light conveys grandiosity of infinity

-gradations of light convey infinity as well

Music
-new emphasis on chromatic scale divided by 11 half tones instead of 7 note scales
-adding new bass and soprano instruments to attain new frequencies
-doubling instruments to increase volume